College of Education & Human Services
Destined for Success
Faculty, academic advisors, Student Advisory Board, classmates, staff, internships and practicum supervisors, student organization advisors, and Alumni Advisory Board are investing their time, expertise, energy, and resources into creating a meaningful university experience for you. Through these sources and student surveys, you shared with us a list of resources that you need to succeed -- and we've been busy putting them into place.
Student Retention Fund to provide support when a small amount of money stands between you and graduation
Holistic wellness support to help you identify, experience, and impement resources for navigating a complex world today and in the future as as you continue in professions that serve and help others
Professional growth programming to develop practical skills for leadership, career path planning, and organizational mangement
Community gatherings to connect with your undergraduate, graduate, and doctoral student peers
With your determination and our resources,
success is the only option in the College of Education & Human Services!
Student Spotlights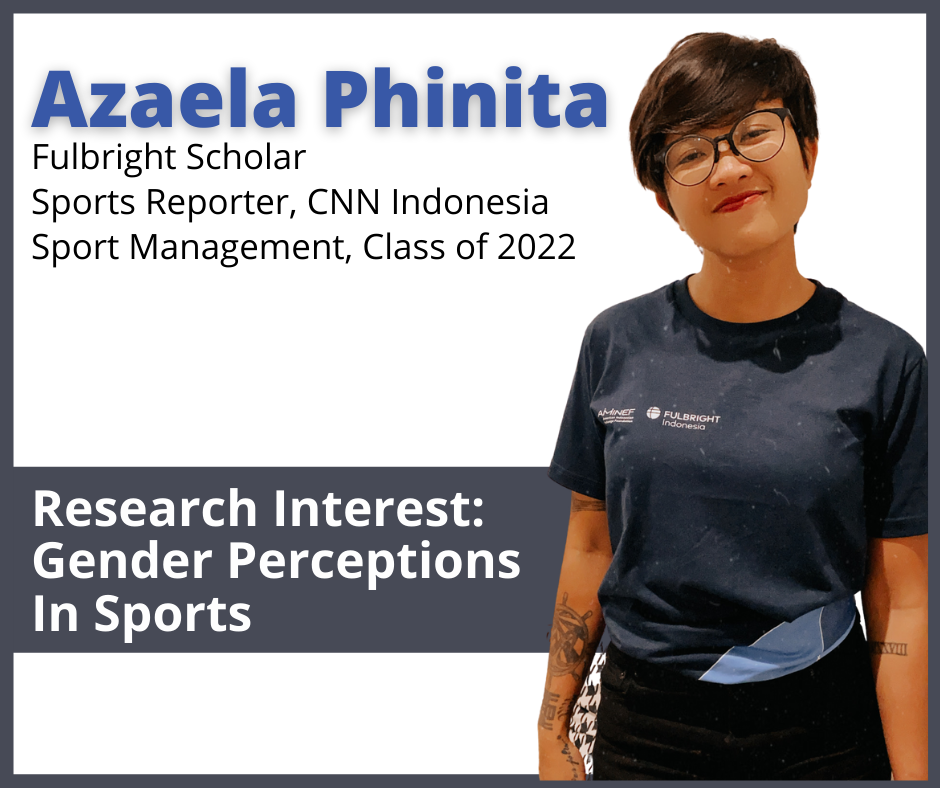 As a young female sports reporter, Azalea Phinata is carving out her own career path and providing mentorship to others along the way. And, it's already having an impact – she is engaged in two research projects during her Fulbright-funded studies at WIU, was named as 1 of 5 finalists for the IBS awards, and provides guidance for sports broadcasting students through her graduate assistantship.
Azalea's academic research topics are inspired by her experiences. While working for CNN Indonesia (currently on temporary leave while studying at WIU through the Fulbright program), Phinata encountered stereotypes based on her age and gender and so she wanted to learn more about how women are viewed as professionals and how professionals view female athletes. Her first research project with Professor Park, Sport Management graduate program faculty, focuses on public perception of female sports broadcasters in South Korea. The second research project, conducted with Professor Sonkeng, also Sport Management graduate program faculty, focuses on the gender perspectives of reporters writing about female athletes during the recent Olympics in Japan.
While Azalea conducts her graduate research, she is also honing her craft as a sports journalist and helping others do the same. Her teaching assistantship in sports broadcasting focuses on promoting WIU athletics with ESPN and provides a seasoned resource for undergraduate broadcasting students who are learning about production, newcasting, equipment, etc. She is especially passionate about helping underrepresented groups explore the profession, "We need more women in the field of sports. There are plenty of roles and career paths in this industry, and women need to hear and see that there is a place for them." Phinata herself was 1 of 5 individual nominees this spring for the annual Intercollegiate Broadcasting System (IBS) Media Awards, representing WIU and Sports Management program in the category Best Sports Report: "WIU Esports - Leatherneck Insider". Each award, each research project, and each broadcast bring Azalea Phinata closer to her professional and mentorship goal of working with the academic and broadcasting aspects of intercollegiate athletic programs.
---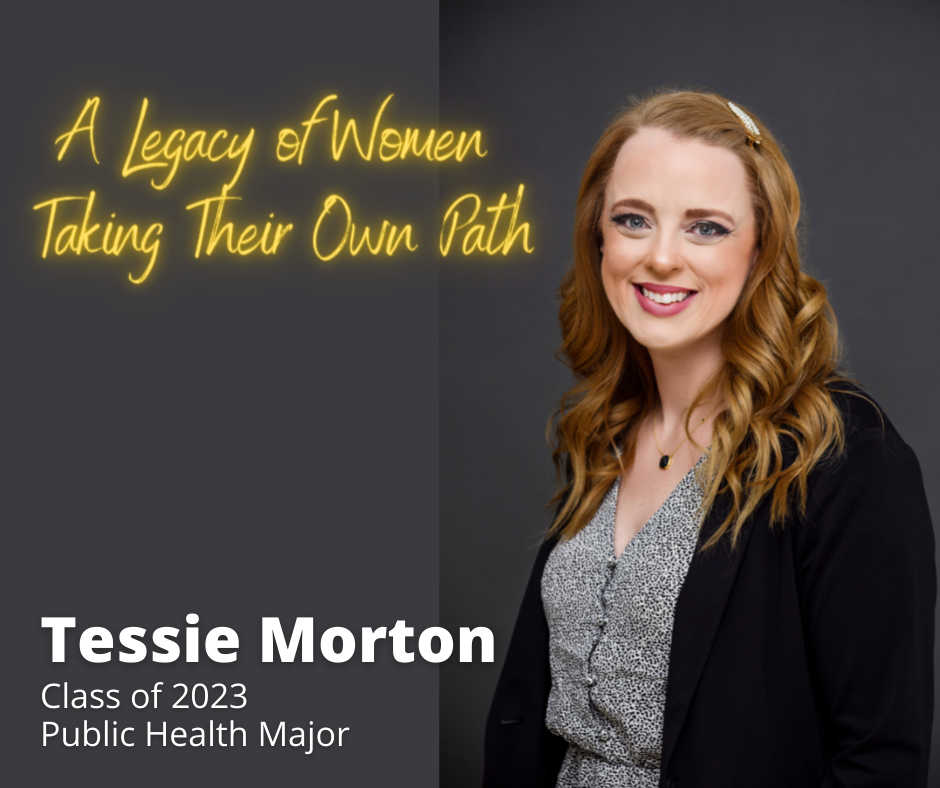 Graduating from Warsaw High School (IL) in 2000, Tessie Morton was uncertain of her next steps. She tested the waters at a local community college, moved to Arizona, worked her way up to a managerial position – yet nothing quite fit and in Spring 2021 it was time for a realignment. Her inquisitiveness about environment & community health and memories of growing up on the WIU campus as a child (her parents lived in family housing with Tessie and her sister while they pursued their degrees) lead her to the public health degree at WIU. "It's ok to hit the pause button and ok to go to school at any time – it doesn't have to be in the traditional path of going to college right after high school. You'll know when it is your time and it will be more meaningful." While going back to school was a huge change – and uncomfortable at times – by the end of her first health science class at WIU, Tessie knew she was on the right track. "I felt a sense of calm and comfort; it's what I should be doing.
Carving out a new path is part of Tessie's family tradition that the women have been doing for generations. Tessie, enrolling as a full-time student 21 years after high school, was preceded by her sister, Class of 2010 with a History degree, mother who attended WIU and living on campus as a parent graduating with a major in Law Enforcement & Justice Administration in 1989, and grandmother, Native American and a daughter of migrant workers, who graduated as a Social Work major in 2002 after raising her own children.
Tessie's research passion was sparked by a personal experience living with her family at Marine Corps Base Camp Lejeune located in Jacksonville, North Carolina. From the 1950s through the 1980s, people living or working in the U.S. Marine Corps Base Camp Lejeune, North Carolina, were potentially exposed to drinking water contaminated with industrial solvents, benzene, and other chemicals as reported by the U.S. Department of Veterans Affairs ( https://www.publichealth.va.gov/exposures/camp-lejeune/ ) resulting in a wide-range of health conditions including
Adult leukemia

Aplastic anemia and other myelodysplastic syndromes

Bladder cancer

Kidney cancer

Liver cancer

Multiple myeloma

Non-Hodgkin's lymphoma

Parkinson's disease
In her health sciences classes like grant writing and research methods, Tessie has had the opportunity to apply academic and professional skills to her passion topic – a great start to her future master's degree thesis!
Upcoming Events 
August 19: Graduate Student Social
Let's attend Rocky After Dark together! Join us in the Horrabin Hall Courtyard at 8:00 PM to meet fellow graduate and doctoral students and walk to Hansen Field for the evening's festivities. Bring your Student ID!
---
August 22: Fall Semester Begins
We're ready to help you find classrooms and answer questions!
---
August 24: Question & Answer Session
Got questions? Log onto Zoom anytime between 7:00-8:00 PM for answers and resources.
---
August 25: Department of Health Sciences & Social Work Ice Cream Social
Undergradute and graduate majors in the Department of Health Sciences & Social Work gather for a cool treat. Check your WIU email for details!
---
August 26: Department of Kinesiology Orientation and Photo Session
It's orientation and picture day for undergraduate and graduate students in the Department of Kinesiology. Check your WIU email for details!
---
August 29-31: Soda Bar
Make a flavored soda while you check out the new and refreshed student lounge & success center spaces created just for you by the College of Education & Human Services.
Lounges & Success Center spaces are open during building hours throughout the semester and the Soda Bar is available this week 10:30 AM-1:30 PM in the following locations.
Horrabin Hall 47 & 113: Monday 
Knoblauch Hall 215: Tuesday
Brophy Hall 117 & 200A: Wednesday
---
September 1: Question & Answer Session
Got questions? Log onto Zoom anytime between 9:00-10:00 AM for answers and resources.