Geodesics Domes and Spheres Page
This page has links to information about geodesic domes, geodesic spheres, and related information. Note: I'm just learning about geodesics, so any information you can share is welcomed!
Information on Geodesics
Basic

More
Buildings and Structures (which are geodesic domes)
Buckminster Fuller Info
Buckminster Fuller Institute - "The BFI is dedicated to accelerating the development and deployment of solutions which radically advance human well being and the health of our planet's ecosystems."
| | |
| --- | --- |
| Built With Newspapers and Masking Tape | |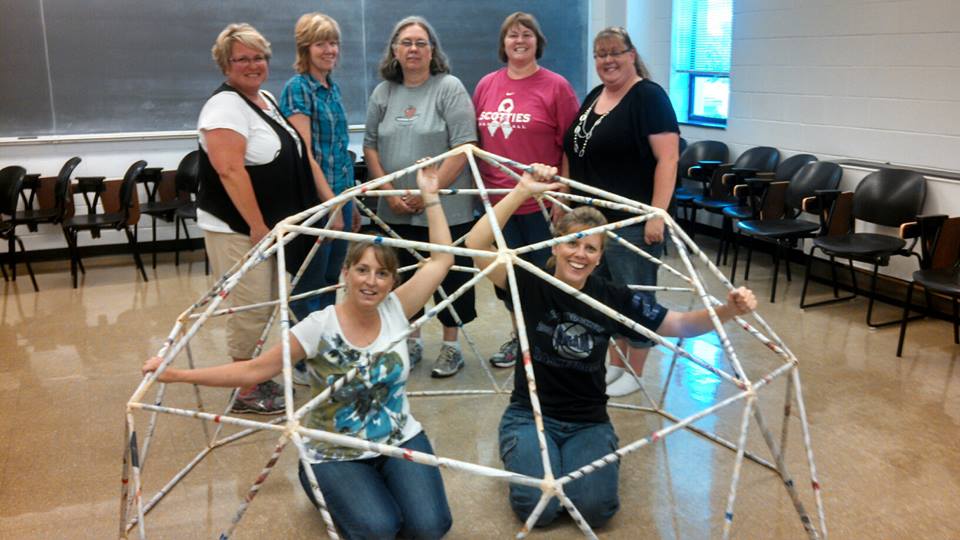 How to Build a Geodesic Dome Out of Newspaper Rolls
Use lengths of 71 cm and 63 cm for your newspaper rolls. Roll them real tight. Instructions. Two videos:

Using masking tape - YouTube Playground Science - kids build a dome at a science museum, with newspaper and masking tape (Note: If you build one of these use lengths of 71 cm and 63 cm  (71 / 63 = 1.13 is the proper ratio).)
Using a stapler - YouTube - 2 guys explain - with newspaper and stapler.

AlWood Science Club Geodesic Dome - "Our Science Club Students made their first Geodesic Dome. It was an awesome team building experience." (Woodhull, Illinois)
More For Teachers - Lesson Plans and Activities
Understanding 2V vs 3V vs 4V - Here's the idea: To make a 2V sphere out of an icosahedron subdivide each edge (into 2 edges) with a midpoint. Then connect the edges. .pdf file; notebook file; 2V outline Word file.
My notes on making a geodesic 2V dome or a geodesic sphere. You can use newspaper rolls or coffee stirrers and pipe cleaners (chenille stems/"fuzzy sticks").
YouTube with red and white paper - detailed explanation using paper triangles.
More Advanced Information on Geodesics
Other
---
Back to the B3D Page ~ Back to the Teaching Resources Page ~ Back to Jim Olsen's homepage
---
James R. Olsen, Western Illinois University
E-mail:
jr-olsen@wiu.edu
updated October 31, 2015