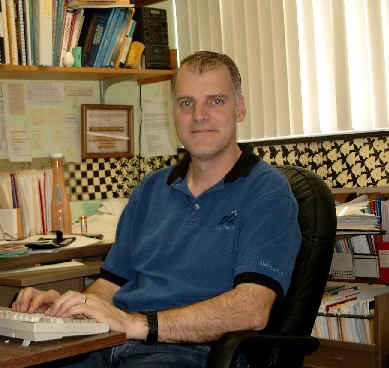 Professional Information
I retired from Western July 1, 2023. I began teaching at Western Illinois University since the Fall of 1994. It was an honor and joy to teach here at Western and be on the faculty. After graduation from Doane College (1979) I taught high school mathematics for ten years. I was also the head boys basketball coach for nine years at Centura HS in Cairo, NE. I hold two Master's degrees (one in Mathematics Education from University of Nebraska-Kearney, and one in Mathematics from Colorado State University). My PhD (Educational Mathematics) is from the University of Northern Colorado (1994). I was a professor in the Department of Mathematics and Philosophy at Western Illinois University for 29 years. From 1979 to 2023, I taught mathematics and mathematics education courses for 44 years. I taught mathematics courses and teaching methods courses for prospective and practicing teachers. My research interests are mental math, student understanding of the function concept, multiplicative reasoning (including proportional reasoning and rates), educational uses of technology, logic for middle school, student understanding of fractions, decimals, and percents, problem solving; and teaching mathematical and higher-order reasoning while seeing the beauty of mathematics. Recent awards: Distinguished Service Award from the Illinois Section of the Mathematical Association of America, Spring 2023; Outstanding Faculty Award for Teaching with Technology from the College of Arts and Sciences, Western Illinois University, April 2019; Award for Academic Excellence in Enhancing Learning with Technology from the Provost, Western Illinois University, October 2019; inducted into the Phi Kappa Phi Honor Society 2015; Distinguished Service Award from the Illinois Section of the Mathematical Association of America, March 2023.
Personal Information
I consider myself a Christian, family member, teacher, athlete, and scholar. I believe that children and students, Pre-K through graduate school, are important (see Children Are ABC's) and represent our future. I enjoy living in Macomb (past weather: Wunder or NOAA) and being part of the Wesley UMC family. I vacation at Lake Okoboji (water levels, okobojipics, okobojiadmin) in Iowa. Information about my wonderful family is below. In summer 2007 I went to Germany with my family. We went to Berlin. It was a moving experience for me to be there with the Berlin Wall down and able to walk under the Brandenburg Gate. I'm involved with Academic Year in America, a foreign exchange agency. My favorite book is The Story of the Other Wise Man. More links of interest: Happiness Coin, Three Things, Sung Graces. More of my off-campus interests are listed below. names form; men's ministry form; teachers form; Preachers form; new WIU grad form responses; Stories Database form. My personal website domain is drjimo.net. I'm retiring, on June 30, 2023, after 44 years of teaching. I taught 10 years in the public schools, 5 years at the university level while in graduate school, and 29 years at WIU. It has been an honor and a pleasure being a teacher.
---
UCEP - University Committee for Education Preparation

Leatherneck Athletics Strategic Plan Steering Committee

Assistant Chair for the Department of Mathematics and Philosophy
Lower Division Curriculum Committee Chair
Mathematics Education Committee
Math Teachers Conference Website Coordinator
High School Relations Executive Committee
MYLO Job Shadowing Business Partner with Macomb HS

Off Campus:
Committees and Responsibilities for 2021-2022
UCEP - University Committee for Education Preparation

Search Committee for the Field Experience Supervisor
Search Committee for COEHS Assistant Dean
SEDG - Secondary Education Discussion Group (meets infrequently)

Assistant Chair for the Department of Mathematics and Philosophy
Lower Division Curriculum Committee Chair
Mathematics Education Committee
Math Teachers Conference Website Coordinator
High School Relations Executive Committee

Off Campus:
Committees and Responsibilities for 2020-2021
UCEP - University Committee for Education Preparation

SEDG - Secondary Education Discussion Group (meets infrequently)
CIT - Council for Instructional Technology

Assistant Chair for the Department of Mathematics and Philosophy
Lower Division Curriculum Committee Chair
Mathematics Education Committee
Math Teachers Conference Website Coordinator
High School Relations Executive Committee
099/100 Revisions Committee

Off Campus:
Committees and Responsibilities for 2019-2020
UCEP - University Committee for Education Preparation

SEDG - Secondary Education Discussion Group (meets infrequently)
CIT - Council for Instructional Technology

Mathematics Education Committee
Math Teachers Conference Website Coordinator
Mathematics Resource Office (MRO) Coordinator
High School Relations Executive Committee
Mathematics and Philosophy Department Chairperson Search Committee
099/100 Revisions Committee

Off Campus:

Wesley Church Communications Committee Chair
Wesley Church Learn-Grow-Serve Committee Chair
Lay Speaker - UMC
ISMAA board member (through 2022)
Webmaster for bombersports.org
Committees and Responsibilities for 2018-2019
UCEP - University Committee for Education Preparation

SEDG - Secondary Education Discussion Group (meets infrequently)
Teacher Education Test Success Committee - Chair

Mathematics Education Committee
Math Teachers Conference Website Coordinator
Mathematics Resource Office (MRO) Coordinator
High School Relations Executive Committee

Off Campus:
Committees and Responsibilities for 2017-2018
UCEP - University Committee for Education Preparation

SEDG - Secondary Education Discussion Group (meets infrequently)
CIT - Council for Instructional Technology (A&S Rep) '17-'18 (excused), '18-'19, '19-'20.
CAEP Steering Committee
Teacher Education Test Success Committee

Mathematics Education Committee
Math Teachers Conference Paperwork & Website Coordinator
Mathematics Resource Office (MRO) Tutor and Scheduling Coordinator
High School Relations Executive Committee

Off Campus:
Committees and Responsibilities for 2016-2017
UCEP - University Committee for Education Preparation

SEDG - Secondary Education Discussion Group (meets infrequently)
CAEP Steering Committee

Mathematics Education Committee
Department Curriculum Committee (Math Educ. Rep)
Math Teachers Conference Paperwork & Website Coordinator
Mathematics Resource Office (MRO) Tutor, Student Assistants, and Scheduling Coordinator
High School Relations Executive Committee

Off Campus:

ISMAA Teacher Education Committee Chairman
Wesley Church Communications Committee Chair
Wesley Church Learn-Grow-Serve Committee Chair